Guide to the Shared Ownership process
31 July 2023
Shared Ownership can be a great option for some people to get onto the property ladder. However, if you are a first-time buyer or are new to Shared Ownership, the process might feel quite daunting and you may want to find out more about what happens throughout.
In this article, we look at the different stages of the Shared Ownership process, from when you're first considering the scheme, to when you get the keys to your new home, and beyond.
In this section:
How to check if you're eligible for Shared Ownership
Before taking this any further, you'll need to know whether you're eligible for the Shared Ownership scheme. In order to qualify, you'll need to:
have a household income of £80,000 a year or less (£90,000 or less per year in London).
not be able to afford the full deposit and mortgage repayments for a home that meets your needs. If this is you, we can put you in touch with one of our independent financial advisors, all of whom are Shared Ownership specialists.
You'll also need one of the following to be the case:
You're a first-time buyer.
You have owned a home in the past, but no longer have it and can't afford to buy one now.
You're becoming a new household, perhaps after the breakdown of a relationship.
You already have a Shared Ownership property and want to move.
You already own a home, which you want to sell so you can move, but can't afford a different property that meets your needs.
Depending on the specific scheme for a home you want to buy, you might also need to have a local connection to the area.
How to know if you can afford a Shared Ownership property
One of the great things about Shared Ownership is that it offers an affordable way for some people to buy their own home. In order to qualify for a property through the scheme, you'll need:
To show that you can afford the mortgage repayments, the monthly rent on the shares of the home that you don't own, and the service charge for the property. You'll also need to provide a deposit for the property in order to get a mortgage. This will depend on your individual circumstances but will usually be 5% or 10% of the share in the home that you are buying. For example, for a property valued at £200,000, in which you are buying a 50% share, you will need a deposit of £5,000 or £10,000.
Bear in mind that there are also other costs involved in buying a home, including conveyancing, legal fees, Stamp Duty (when applicable), moving costs, and potentially mortgage broker fees. Our sales executives will be able to tell you more about these costs.
How to find Shared Ownership properties in the area you want to live
If you've got a deposit saved and have done the maths to work out that you can afford a Shared Ownership property, you'll want to find out what is available on the scheme in the area that you want to live.
If you already know about local Shared Ownership developments, you can get in touch directly through the website to find out more about the properties that are available. The team will have up-to-date information about which homes or plots are available and when the property might be ready to move into.
You can usually also find Shared Ownership homes in your area on popular property search websites, such as SharetoBuy, which usually have lots of filter options to help you find what you want quickly and easily.
The Shared Ownership application process
Once you have found a Shared Ownership property or development that you're interested in, you can get in touch with our sales advisors, who will be happy to answer any questions you may have, or book you in for an appointment to discuss next steps.
Once some checks have been done to make sure you are eligible and can afford the home, you can then officially apply and reserve the property.
If the development you are interested in hasn't been released yet, you can register your interest and we will be in touch when the homes come to market.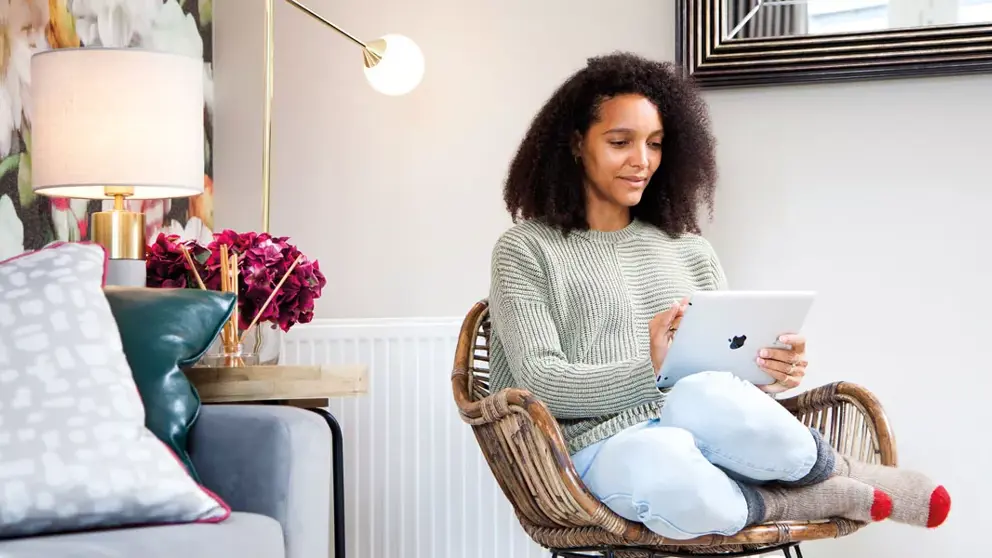 Getting a mortgage for Shared Ownership
Unless you're a cash buyer, you'll need to take out a mortgage to pay for the shares in the home that you are buying.
If you take the price of the property shares that you are buying, and take off the deposit amount, that leaves you with the amount you will need to borrow from a mortgage provider.
As you're only purchasing part of the property, this type of mortgage is different to standard mortgages, but there are lots of lenders who now offer Shared Ownership mortgages.
Just like any mortgage, you'll need to be able to show that you can afford the monthly repayments and you will need to have a good credit history. The amount that you can borrow will depend on the income of the applicant or applicants and a mortgage broker or comparison website can help you to find the best mortgage lender and deal available for your individual circumstances.
When you have successfully applied for and reserved a property, you can put in your mortgage application. You'll need to provide information including:
proof of identity and current address
bank statements (usually three to six months' worth, depending on the lender)
details of your employment and proof of all income e.g. payslips, state benefit payments etc.
proof that you have the deposit needed for the property purchase.
The mortgage process for Shared Ownership usually takes a few weeks between application and approval.
The Shared Ownership conveyancing process
Alongside getting a mortgage, the legal work involved in buying a home needs to be done. You'll need a conveyancing solicitor to do this on your behalf.
With Shared Ownership, this involves the legal side of transferring ownership of the home and includes checks being run on both the property purchase and the lease for the portion of the property that you are renting.
The conveyancers also look at the process for buying more shares in the property over time (known as staircasing) and any clauses or restrictive covenants in the lease.
Paperwork for the Shared Ownership buying process
Once the property application and mortgage application – if you're not a cash buyer – are done, there's usually extra paperwork that you'll need to look at and sign when you buy a Shared Ownership property.
As you have a lease on the property, you'll need to sign the paperwork for this and for your mortgage if you aren't a cash buyer when you exchange contracts. That's the point when the purchase becomes legally binding for both the buyer and the seller.
The deposit will also need to be transferred to your solicitor at this stage, who will ensure it is transferred to the seller.
Once contracts have been exchanged you can look forward to a completion day being agreed. This is the day when the mortgage lender sends the funds to the seller, and you get the keys to your new home!
How long does the Shared Ownership process take?
The length of time it takes to buy a Shared Ownership property can vary, however, it's common for the whole process, from acceptance of your application for a property to getting the keys, to take somewhere around one to two months (if the property is ready).
If there's still building work that needs to be finished on a new-build property, the timeline can be longer, but the sales team should be able to give you advice on this before you start the Shared Ownership buying process.
Getting ready for completion day
Once you know which date you'll get the keys to your Shared Ownership home, you can make all of the arrangements needed for moving in.
You may want to hire a removal company and organise those important necessities like setting up your internet connection, energy and water providers, as well as council tax, for your new home.
You'll need to get all of your belongings packed and ready to go, which can be a good opportunity to declutter and get rid of things that you don't need to take with you to your new home.
You can also make a list of everyone you need to contact to tell them about your change of address, like your bank. It's sometimes useful to set up a "redirection" of your post from your old to new home address with Royal Mail for a few months - that way, you'll still get important mail from anyone who you may have missed from your list.
If you have pets, you might want to make arrangements for them on moving day so they can be safely looked after somewhere else until you've moved in and have unpacked the basics.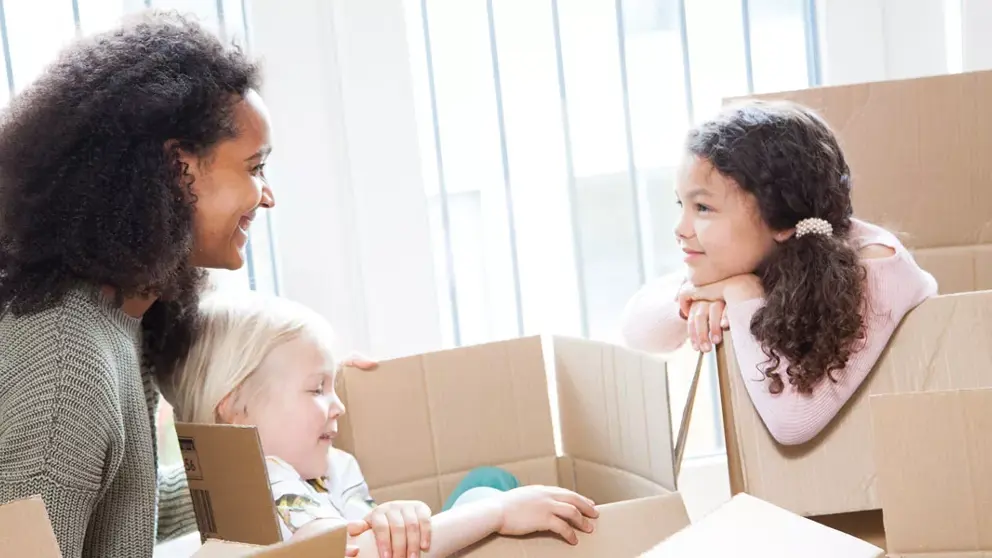 Getting the keys to your Shared Ownership property
Once the property buying process is complete, you'll get the keys to your new home and you can move in!
Along with getting all of your belongings inside and starting to unpack, it's a good idea to take photos of the electricity, gas and water meters as soon as you arrive in the home and keep these images safe, so you will only get charged for what you use.
After that, it's time to settle in and start enjoying your new home.
Support after you've moved into your Shared Ownership home
With a Shared Ownership home from Places for People, the support we offer doesn't end when you move into your new property.
Our mission is for our Shared Ownership homeowners to be part of thriving, sustainable Communities and we're always here to assist if you have any questions or concerns. Plus, our new-build Shared Ownership properties all come with a 10-year structural warranty for your peace of mind.