From renter to first time buyer: how Petar escaped rising rent costs through Shared Ownership
13 October 2023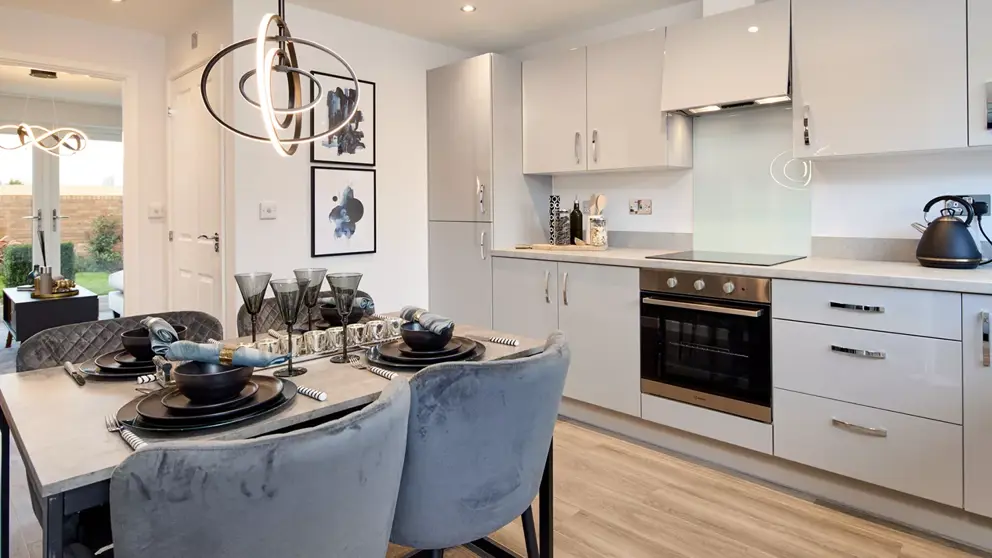 With average monthly rent costs continuously on the rise, current renters are searching for alternative yet affordable ways to get themselves onto the property ladder and wave goodbye to renting for good. This was certainly the case for 34-year-old Quality Technician Petar Georgiev, who discovered that Shared Ownership was the key to leaving an uncertain rental market and enjoying his own space. Moving from a house he shared with twelve friends, Petar found everything he was looking for and more at Places for People's Dominion development in Doncaster.    
Making the first step with Shared Ownership
After relocating to the UK from Bulgaria in 2015, Petar rented a house five miles away with twelve other tenants before discovering Dominion at the end of last year. Craving the freedom of his own space, he decided to purchase a 40% share of a two-bedroom semi-detached house with Shared Ownership.  
"While living with lots of different housemates was fun, it was quite busy at times, and I really craved the peace and space of my own home," Petar explained. "The prospect of having a place to myself and making a financial investment for my future instead of paying increasing rent were two of the main reasons I decided to move. I was so pleased when I found Dominion – it means that I no longer had to share a kitchen or a bathroom, and I had a place to call my own!" 
Investing into the future with Shared Ownership
Petar had been saving for four years before being in the financial position to purchase a share in a space to call his own at Dominion.   
"After a few years of living in a house share, I knew I wanted my own space, so I began putting money aside each month. With my savings, I managed to put down a £10,000 deposit, buying a 40% share of the property, which was priced at £177,500. My monthly outgoings are now only £316.70 for my mortgage, £218 in rent and £283 for service charges. This is slightly higher than I was paying in the house share, but I'm now contributing to my home instead of paying someone else's mortgage, making it all worthwhile. I hope to staircase to a higher share after five years, and hopefully to 100% ownership someday." 
Location, location, location
Looking for a new, affordable property near his work was a tall order for Petar, who was looking for an area that offered a slice of tranquillity away from the more urban scene of his previous living situation.   
"After doing lots of online research and viewing older properties, I found the new collection of houses at Dominion were more suited to my tastes and needs. After living in a city for a few years, it was great to find a location with plenty of parks and outside space to explore. I really enjoy working out, and there is lots of green space for me to exercise near the development, like Woodfield Park, as well as a big Tesco within walking distance to get my essentials."   
Enjoying a more serene outlook away from the bustle of city life, Dominion provides its residents with the ideal blend of abundant natural space and easy access to local amenities. The two-to-four-bedroom home collection features spacious open-plan layouts, and the wider development borders the idyllic Potteric Carr Nature Reserve. 
Space to call his own with Shared Ownerships
Commenting on the additional space he now enjoys, Petar added, "As I used to work as a kitchen fitter back in Bulgaria, I have a keen eye for utilising space within properties. I love how my new home has been designed; every inch of space within this property has been maximised. I have a garden to enjoy, so my lifestyle has become much more peaceful since I moved too. In terms of location, I can get to work in just seven minutes as there's great motorway access, which is a big plus."  
Petar was thrilled when he discovered he could purchase a share of a property, providing a more affordable, long-term housing solution.   
"I was so pleased when I contacted an Independent Financial Advisor and discovered I was eligible for the Shared Ownership scheme. Soon afterwards, I spoke to Dominion's friendly Sales Manager, Diane, and booked an appointment to see the show home immediately. I was so impressed with the properties at my viewing that I reserved my home off-plan shortly afterwards.  
Places for People did everything they could to make my moving process as seamless as possible. As a first-time buyer, it can be a daunting experience, but they supported me at every stage, gave me all the information I needed, and were always on hand to answer all my questions. The communication with everyone at Places for People was fantastic."   
Making his personal stamp
Drawing on his experience in home design, Petar has been busy crafting DIY additions for his new home, including a kitchen lamp and a wooden unit with a built-in wine cooler.  
"Buying new was the right choice, as I love how it has allowed me to put my stamp on my home. I've gone for dark black furnishings, which contrast nicely with the almond-coloured walls downstairs. Adding my touches has made this house feel like home, along with the friendly neighbours and the sense of community in the development.  
I couldn't be happier with my decision to move to Dominion. Shared Ownership has made stepping onto the property ladder so much more financially accessible, and I would really encourage others to see how the scheme could help them take that first step too." 
Dominion is an outstanding collection of two- and three-bedroom homes in one of Doncaster's most highly sought-after suburbs. Property prices start at £148,500 for a two-bedroom apartment. Find out more information about Shared Ownership at Dominion, or call 07812 623 568. 
If you would like to learn more about Shared Ownership and our available UK home, check out our Share Ownership hub.