Savvy savers take a step on the property ladder with Shared Ownership scheme
06 November 2023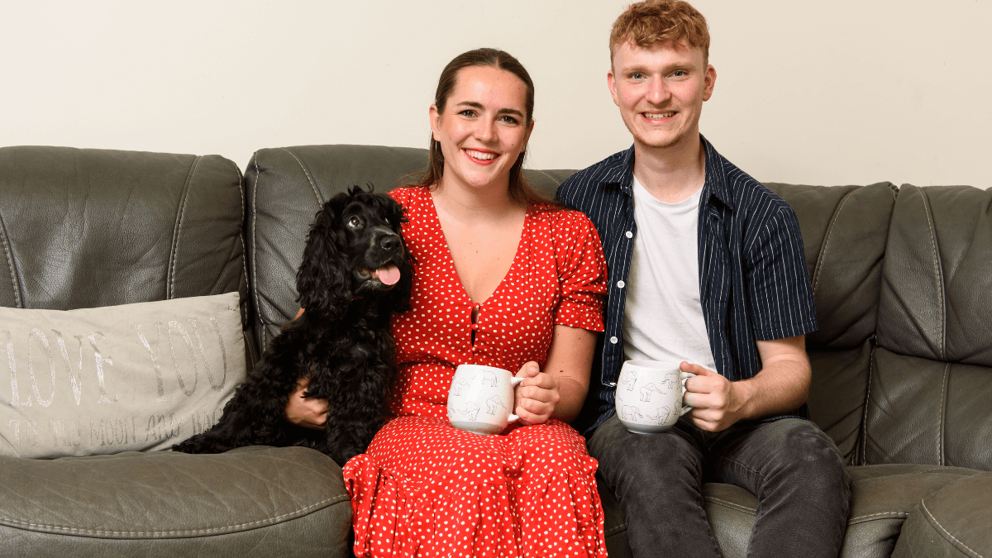 With the average age of a first-time buyer in the UK now at 35 and requiring a deposit in the region of £61,000, aspiring homeowners face a long wait before being able to hold the keys to their first property. Bucking this trend are young first-time buyers Ellie Heritage and Tom Smith, who successfully purchased their first home together at Maple Fields in the desirable Hampshire town of Bordon at just 21!    
Escaping the stay-at-home trap 
Having lived between Ellie's parents' home in Aldershot and Tom's parents in Farnham, Biology student Ellie and Accounts Auditor Tom were keen to get themselves on the property ladder and have a place to call their own.  
"We both lived with my parents for a while, then we moved in with Tom's parents, and although it was great, living between homes wasn't ideal, so we were really keen to buy our own property. We looked into buying privately but could only afford a one-bedroom flat. Whilst it's just the two of us, we already had a few pets and plans to get a dog, so this wouldn't be big enough. That's when we began looking at other options and found out about Shared Ownership from a family friend who had purchased a three-bedroom property using the scheme," Ellie explained. 
Make the first step with Shared Ownership
"Being able to speak to someone who had bought a Shared Ownership property and had a positive experience with the scheme motivated us to start our own search.  
We had noticed many new build developments being built in and around the local area, and many were available to buy with Shared Ownership. We registered our details with a few of the ones we liked, but unfortunately, we missed out on a few as we didn't meet the eligibility criteria.
Finally, we received a phone call from Places for People and learned about Maple Fields in Bordon. We arranged to visit the development the same day. We viewed a two-bedroom show home and knew almost straight away that it was perfect for us. We already knew how lovely the local area is, having visited nearby Hogmoor Enclosure for walks. There are plenty of local shops nearby, good schools and parks."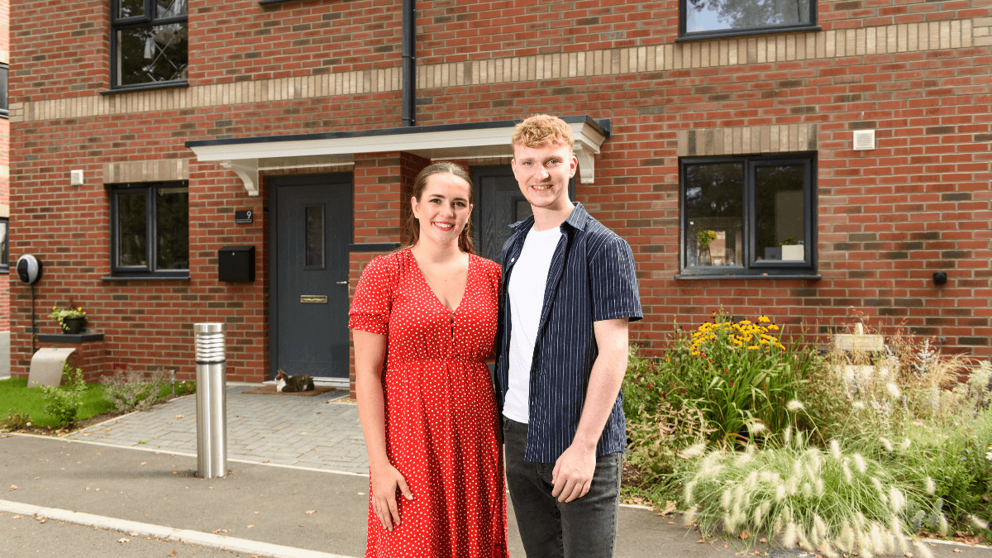 Making the numbers work for them
Using Shared Ownership with Places for People, Ellie and Tom purchased a two-bedroom semi-detached house. Ellie explained more about how they secured their home.
"We purchased a 45% share of our home and put down a deposit of £22,000. We found this was a much lower amount than if we were to buy the typical way. We also tied ourselves into a two-year fixed-term mortgage rate, so we are secure in what we pay each month. The process was straightforward, and Janice from the sales team was super helpful.
We have both been good at saving money; Tom had a paper round and saved all his money. At 13, I worked as a gymnastics coach assistant and saved all the money I earned. By 16, I had got a job at TK Maxx, and I bought my first car a year later. By the time we decided to buy a property together, we were able to put down a good deposit. By using Shared Ownership, we have been able to buy a bigger property in an area that otherwise would have been unaffordable. We also now have our dog too! A beautiful cocker spaniel called Mabel."
Finding Community through Shared Ownership
"The development is really nice, there are lots of green areas here too. The neighbours are lovely; we often organise regular get-togethers and even have a Facebook group that everyone can feed into. The children play outside together and ride on their bikes – which is nice to see as it brings back memories of when I was younger.
We often walk over to The Shed in about 15 minutes. It's a funky warehouse space with lots of different places to eat and shop. There's also a big Tesco superstore and a few takeaway places nearby – we have everything we need on our doorstep, and if we want to go somewhere nice for the day, Guildford is a 30-minute drive away, or you can get to Winchester in about 40 minutes."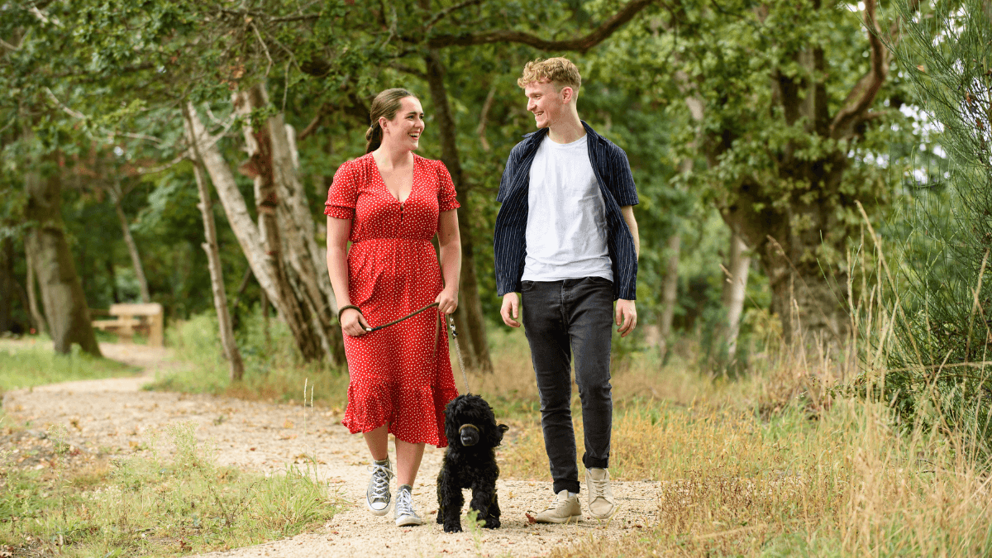 A place to call home
When discussing how they enjoy living in their new home, Ellie explained, "The house is bright, spacious and open. We love the kitchen; it's the perfect size and has plenty of cupboard space. There is lots of storage space throughout the house, including a huge understairs cupboard – so everything can be kept clean and tidy. We have a decent-sized garden with its own shed, which was a pleasant surprise! We also have three rabbits and two African pygmy hedgehogs, as well as Mabel, so there is plenty of space for them outside. We have a nice little patio area, which is perfect when the weather is nice. We also have our own driveway with space for two cars - there are also visitor parking spaces, which is handy when we have friends or family visit us."
Thoughts on Shared Ownership
"The Shared Ownership scheme has been super beneficial for us. For first time buyers like Tom and I, who are unable to secure the mortgage they need to buy the property they would like, the scheme enables you to get onto the property ladder and use it as a stepping stone to move on and buy privately, or staircase to a bigger share. For us, it has given us the freedom to move out of our family homes and enjoy our own space together, and we are still only a short drive away from both our families. We look forward to putting our own stamp on our house and recommend the Shared Ownership scheme to friends and family – it's a great way to get on the property market affordably."
All homes at Maple Fields are now reserved. Find out more about the new collection of Shared Ownership homes at the nearby development Whistle Wood in Bordon, or call 01420 730032.
If you'd like more information on Shared Ownership or would like to find a Shared Ownership home in your area, find out more here.