Empowering Young Communities with Positive Footprints and Ward Hadaway
22 August 2023
We work with many fantastic partners who help us deliver valuable projects across our Communities.  
Ward Hadaway LLP is one of them. It is now the second year that Ward Hadaway LLP is on our legal panel, and as part of our commitment to delivering social value with our partners, they have demonstrated their support by sponsoring a second school nominated by us onto the Positive Footprints programme.  
What do Positive Footprints do? 
Since 2012, Positive Footprints has been dedicated to bridging the skills gap in the UK and opening doors to the world of work with the aim of raising the aspirations of children and young people. 
They believe that everyone has the right to do what they love and should be given every opportunity to succeed. They work with government bodies, education sectors, and industry and business leaders to produce careers-led learning programmes that enable children and young people to discover their potential, build resilience, develop employability skills, and explore the world of work. 
In the past year alone, Positive Footprints has made a significant impact with the help of its partners. They have supported 11,000 children and young people, with 96% of them saying they really enjoyed their programmes. They have 300 schools in their network delivery programmes and have spent 3,600 hours delivering financial and career education with 450 teachers. These efforts have generated an impressive £1,317,593 in social value. 
Along with Ward Hadaway LLP, we are one of 26 partner organisations that support Positive Footprint's vision of changing how children and young people see themselves, their potential, and the world around them.  
Our impact on the local Community  
Together with Ward Hadaway LLP, we are thrilled to extend our impact on the local Community. In this endeavour, we are now sponsoring our second school in Leeds with a shared mission of helping children discover their potential, explore the world of work, and develop skills for the future.  
From our initial sponsorship, we have seen some fantastic results. Currently, 60 children in Year 5 at a school in Harehills are actively taking part in the 'Raising Aspirations' programme, which is designed to unlock their potential, provide exposure to diverse career paths, and learn essential skills. Additionally, we recently attended a local career carousel alongside seven other companies, including Ward Hadaway, Jet2, and Leeds United Football Club. The event provided an opportunity to engage with young individuals, sharing insights into various career paths and the opportunities available to them.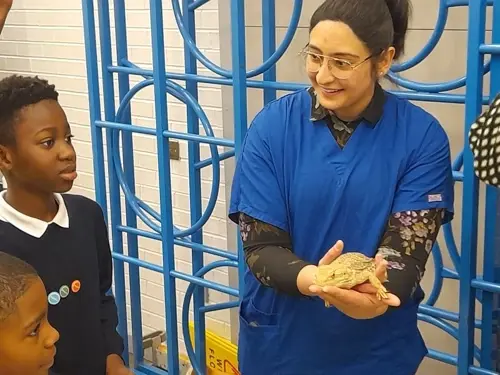 The power of education   
At Places for People, we believe that education is the backbone of any Community, and we're committed to improving access to training, employment, volunteering opportunities, and the development of new skills. Our partnership with Positive Footprints through Ward Hadaway is doing just that and is helping make a difference in our Communities. 
For more information on Positive Footprints and the work that we do with them, please contact Emily Newman, Community Investment Manager.