Minister for Housing Visits Tornagrain Community
06 September 2023
The Scottish Minister for Housing, Paul McLennan, recently paid a visit to our Tornagrain Community in the Scottish Highlands. Located on lands owned by Moray Estates, Tornagrain is the Highlands' newest town which has a long-term vision to create a new sustainable town, comprising of 5,000 homes across four neighbourhoods that promote diversity as well as social inclusion.
A Vision of Affordable Housing
The benefits of blended development models with mixed tenure sites were a key topic during the visit. Tornagrain is a prime example as it has been designed with the "blind tenure principle" in mind to eliminate the visual differences between homes for private purchases and for affordable housing. The aim of this is to help combat the stigma that exists around social housing and to aid in the creation of a thriving, diverse Community.
The latest construction phase at Tornagrain delivered 68 homes, with 12 homes for social rent, 17 for mid-market rent, and 12 for shared equity. Construction has now also begun on a further 40 affordable homes.
Reflecting on the visit to Tornagrain, Paul McLennan, said, "This is a very impressive development and as it grows it should continue to deliver many of the ambitions set out in our Housing to 2040 strategy. Working in partnership with Highland Council and Places for People Scotland we are creating a community within which people can live, work and thrive. Everyone should have access to a safe, warm and affordable home and have a choice about where they live, no matter what tenure they live in."
Adding to this, Katie Smart, Director of Places for People Scotland, said, "In Scotland we strive to be a fair and equal society, but unfortunately long-standing misconceptions about social housing persist. We believe that designing social and affordable homes to look different from other homes within a development only perpetuates the stigma and risks limiting the potential of the Community and the people who live within it."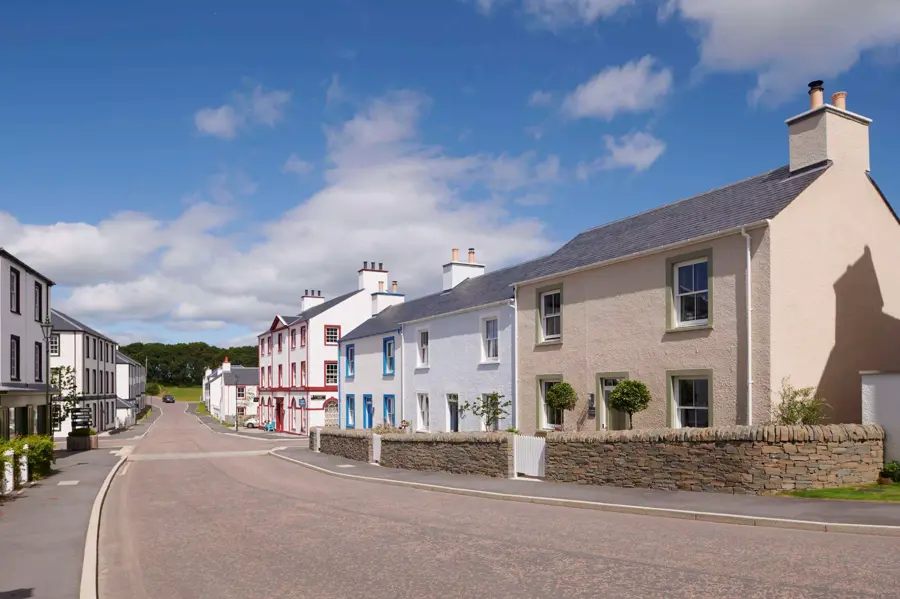 Sustainability at the Core
Tornagrain is progressing in its ambitious, long-term vision to create an enduring and sustainable new town, which builds on the architectural and planning traditions of found in the Highlands and across Scotland. Sustainable living starts with the balanced design of the development, providing Customers a holistic approach to living. All homes offer the chance to live in a natural environment, close to lush green and recreational spaces. Amenities, green spaces and active travel routes have been designed to enable residents to live more sustainably.
The development itself is fuelled by biogas (bio-methane) from the nearby Tornagrain Gas Mill anaerobic digester, which is produced from the anaerobic digestion of farmyard manure, distillery waste and agricultural silage. The gas plant can produce sufficient biogas for several thousand homes and the operation of the gas grid means Tornagrain homes use this locally sourced, low carbon energy source for heating, hot water and cooking.
Roddy Mcdonald, Managing Director of Places for People Developments Scotland, said "The Tornagrain Community has been carefully planned to enable the people who live here to make more sustainable choices. This has been done this by creating spaces for shops and local amenities, well thought out travel links, and open spaces to play and socialise. This contemporary Community exemplifies the 20-minute neighbourhood principles, which promote sustainability and are reflective of what people are looking for."
Looking to the Future
This forward-thinking development is setting a new standard for Communities in Scotland and beyond, demonstrating that it is possible to create a more sustainable and inclusive future for everyone.
The next phase at our Tornagrain development is coming late autumn 2023 with a number of buying options including Shared Equity, to find out more or to register you interest click here.
If you are interested in finding out more about renting affordable housing at Tornagrain, please contact Touchstone 0131 657 5139.