Work begins on next chapter of East Wick + Sweetwater
25 October 2023
·   Phase two will deliver 210 new homes on Queen Elizabeth Olympic Park
· The Hill Group appointed by Places for People and Balfour Beatty Investments to deliver phase two
·  Major new east London neighbourhood will play a key role bridging the communities of Hackney Wick, Fish Island and Stratford
Construction work for the second phase of East Wick + Sweetwater (EW+S), a major new mixed-use community on Queen Elizabeth Olympic Park, is underway.
Delivered in joint venture by Places for People and Balfour Beatty Investments, phase two is being constructed by award-winning housebuilder The Hill Group and will provide 210 new homes in five apartment buildings, plus a row of terraced houses, including 45 homes in the London Living Rent tenure.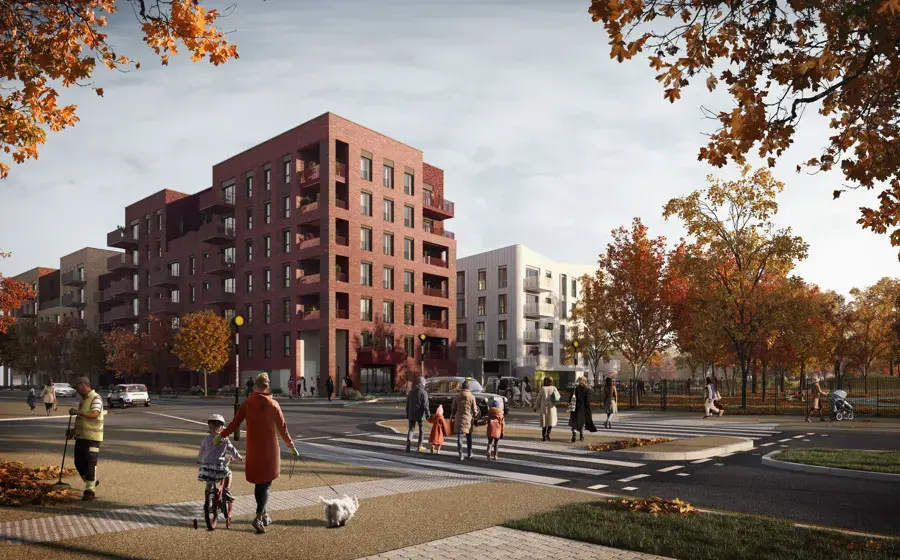 EastWick + Sweetwater Phase 2 initial vision
Designed by architect Sheppard Robson and landscape designer Fabrik, the second phase of EW+S builds on phase one, which delivered more than 300 new homes, new workspaces, and local shops that are now occupied by a range of local businesses.
Phase two located on Queen Elizabeth Olympic Park, with fantastic views across the Park, and adjacent to Here East. Alongside the homes, a new public square called Garden Square will provide connections across the development and into the park. Within Garden Square are spaces to rest and gather, as well as walking routes into the park, helping to integrate phase two into its wider surroundings.
The new homes will benefit from communal gardens that have been designed to ensure ease of movement, with a variety of new pedestrian routes.
New planting will maximise biodiversity, whilst new play areas will create opportunities for socialising and play within each communal garden. Green corridors will be woven through the new public spaces using trees, planting, and biodiverse roofs to maximise opportunities for biodiversity.
EW+S will eventually provide more than 1,800 new homes, new green spaces, and play areas, alongside an eclectic range of commercial opportunities for local businesses to thrive.
Planning approval for the next five phases of development has already been secured and will provide 1,557 new homes, of which 502 will be affordable. These phases will also see 802 sq m of new employment and retail space created alongside more than 1,200 cycle spaces, encouraging sustainable methods of transport.
Major infrastructure improvements already delivered include Monier Road bridge which connects the communities of Fish Island and Queen Elizabeth Olympic Park and enables sustainable access (bus, cycle, and pedestrian use only) to the residential community.
Sarah Hughes, Development Director at EW+S said:
"EW+S has already established itself as a new neighbourhood, contributing to the legacy transformation of Queen Elizabeth Olympic Park, creating a new, diverse and vibrant part of East London. We're really excited to see construction work is now underway for the second phase of the development, building on what has been achieved in phase one. At the heart of our vision for the entire project is an ambition to connect the new buildings into the wider area, helping to bridge the communities of Hackney Wick and Stratford."
Simon Trice, Managing Director (Partnerships) at The Hill Group said:
"We are delighted to have been appointed to deliver the second phase of East Wick & Sweetwater. We look forward to utilising our extensive experience in urban regeneration and building on the success of this exciting new neighbourhood by creating high-quality, sustainable homes."
Janet Townsend, Director of Development at the London Legacy Development Corporation, said:
"East Wick is already an established thriving neighbourhood and it is great to see the start of works on the next phase of this development on Queen Elizabeth Olympic Park. These new communities provide much needed new homes alongside the business hubs of Here East, Stratford Cross and the new cultural quarter at East Bank."
For more information visit eastwickandsweetwater.co.uk